Where to Start
Safety First
When it comes to downhill mountain biking, making sure you know how to be safe is the best place to start. Here are a few of our safety tips:
Ride within your abilities and take your time.

Right hand brake is the RIGHT brake to use most of the time.

Constant pressure when braking is better than on/off or slamming the brakes.

Altitude is a factor. Trestle is about 10,000 feet above sea level. Drink water and take rests!

Your eyes guide where the bike goes. The faster you are going, the farther you should be looking ahead on the trail.
Riding with a buddy is always a better choice!
Trails may contain berms, rolls, drops, jumps, rocks, and roots.
Ride Smart
Slow Down Before You Speed Up
Crashes can happen on your first lap. Ride the trail multiple times to get familiar with the features and equipment you're on so you can more confidently increase your skills without exceeding your limits. Jumping skills are required for freeride trails.
PRE-RIDE

Warm up the brain and body and inspect the trail at low speed.
RE-RIDE

Lap the trail a few times and get to know the flow of the features.
FREE-RIDE

Start small and work your way up to faster speeds and larger features.
know your bike
We recommend downhill specific bikes
It's important that you choose the correct bike for the type of riding that you are doing. Mountain XC bikes often come up short on the following features:
Frame
Reinforced frame to withstand the forces of the trail.
Brakes
Disc brakes provide stopping power even in wet and muddy conditions. Rim brakes don't work well in wet or muddy conditions.
Suspension
Suspension in the front and rear help absorb bumps so you can roll over rough surfaces easily.
Cranks
Durable metal cranks with flat pedals provide a sturdy platform when riding.
Know Your Gear
What to wear?
All gear is available for rent/purchase in our Rental Shop. Full armor is included in bike rentals.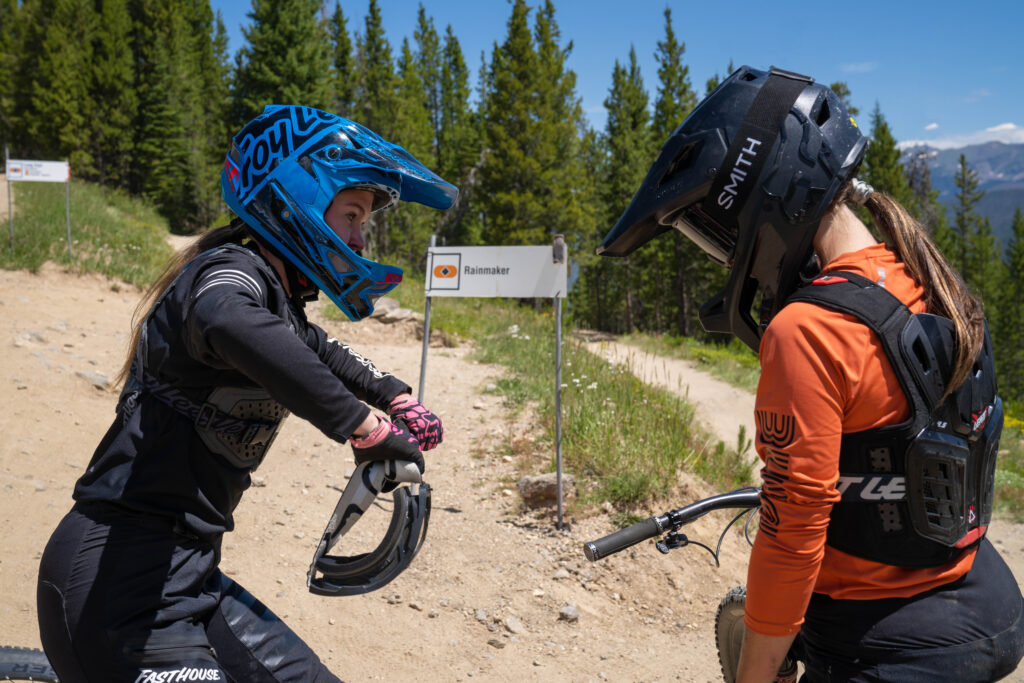 learning to ride
get a coach
Never tried Downhill Mountain Biking, but always wanted to? Try one of our private lessons to improve your skills quickly and safely. Confidence is the key to progression, and there is no better way to build confidence than by going out with a bike park pro.
Trail selection
Which Trail is best for me?
Picking the right trail is an important part of having a great day. Learn what each trail rating means below.
#rideyadamnbike
where to go from here
Buy A Seasons Pass and
ride all season long!